Worldpay Vantiv Express Account Setup
Merchant Credentials

Step 1 - Set up an online payment account for each store.
If you have a WorldPay rep, you may want to go through them, You will need your current account's MID.

If you don't have a rep and don't already have a contact number for WorldPay, please try this number: 866-655-5353.

If you are using Hosted Vantiv - please see the guide called
Google Analytics: Hosted Payment Provider and Exclusions
as
Referral Exclusions
must be added to prevent a new Google Analytics session.
Step 2 - Login to your iQ account to retrieve your credentials
1. To access the credentials log into your account on iQ https://www.accessmyiq.com/ and follow the instructions in this video. (The video plays best in a Chrome browser)

2. Navigate to the Virtual Terminal > Profile page.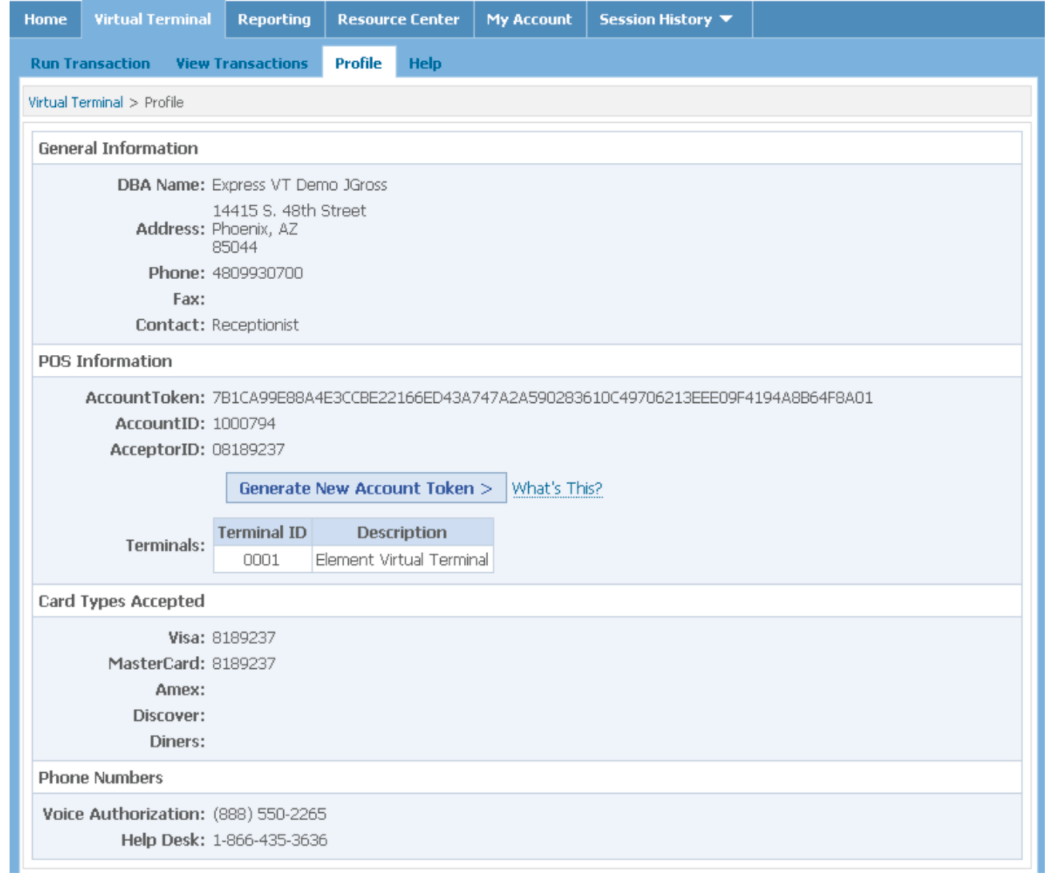 Step 3 - Email your Account Manager



Once you have set up online payment accounts, we will need the FOUR following credentials from stores.
Please copy and paste them into an email and send it to your Account Manager.
Account ID


Acceptor ID


Account Token


DefaultTerminal ID

Please Note:
The above credentials must be COPY & PASTED. A screenshot of the credentials will not be accepted.
Step 4 - Google Analytics: Add Hosted Payment Provider Exclusions

Once Freshop has confirmed that the process has been completed there is one last step for the store.
Referral Exclusions MUST be added to the Google Analytics settings at the Property level to ensure the customer's return does not start a NEW Google Analytics session.

Related Articles

Google Analytics: Hosted Payment Provider Referral Exclusions

Common Issue Customers leave the merchant's website to make their payment on a 3rd party hosted payment provider's website. After they complete their payment, customers are then redirected back to the URL provided by the merchant. When customers ...

Payeezy: Hosted Checkout Account Setup

This guide applies to you if you already have a First Data Merchant Account and you would like to set up a Payeezy Gateway Payment Page, which will allow your site to accept payments with Payeezy's hosted web payment form. If you need to set up a ...

PayPal: Account Setup / Integrating API Keys

Create Account To create a business PayPal account go to https://www.paypal.com/us/webapps/mpp/merchant. Once your account has been created you will need to follow the below steps to get the API keys integrated. Integrating API Keys Please Note: If ...

Google Analytics Triggered Events

During onboarding, you can provide a Google Analytics tracking code for your website. If you do not currently have a tracking code, follow the steps in this related article. This is the standard set up we use for all sites. Below is a list of the ...

Freshop Express: Next Steps

You have been notified through the Freshop Express - Registration email that your store is now up on the Freshop Groceries App and Website - what are your next steps? Next Steps 1. Account Setups The first thing is to make sure that you have ...